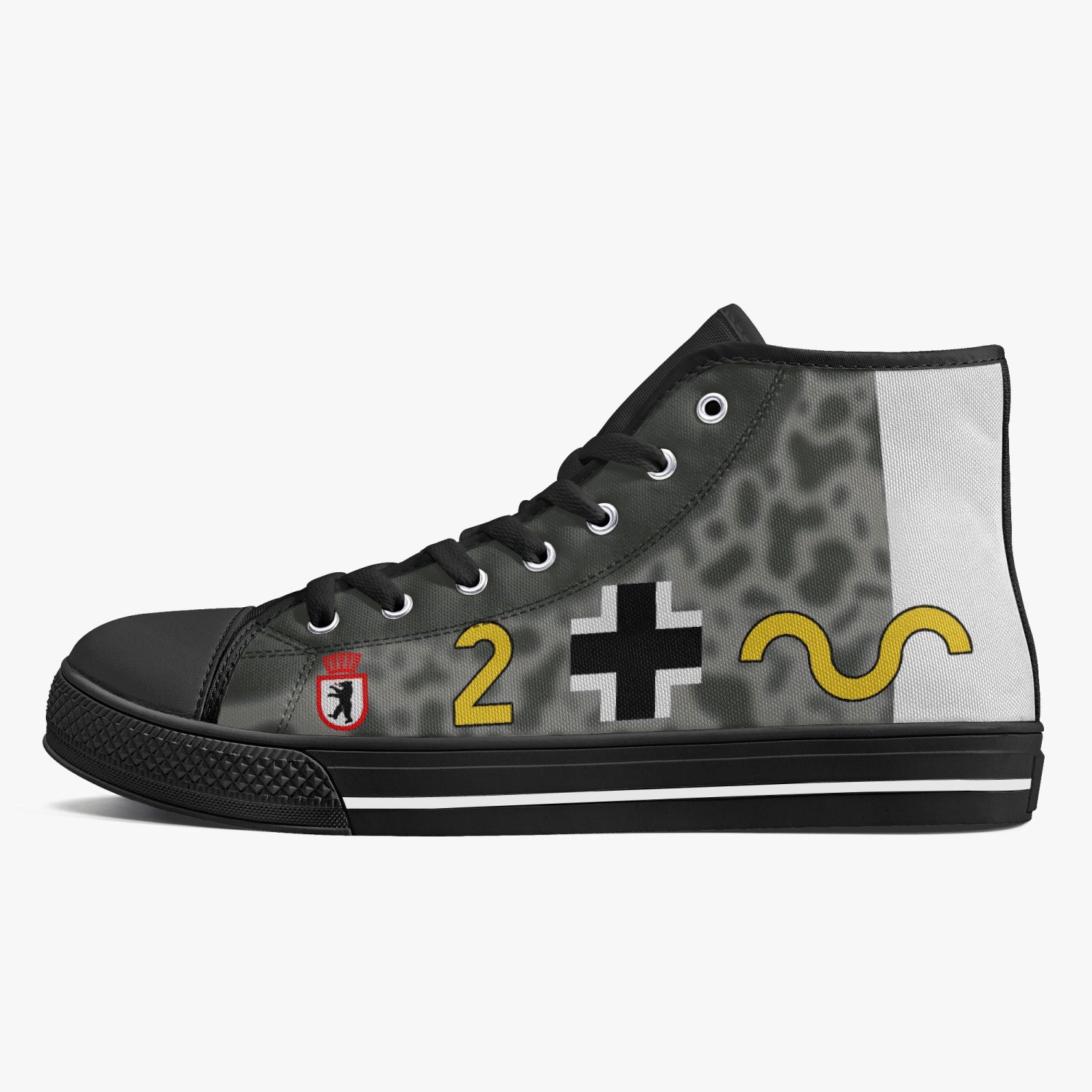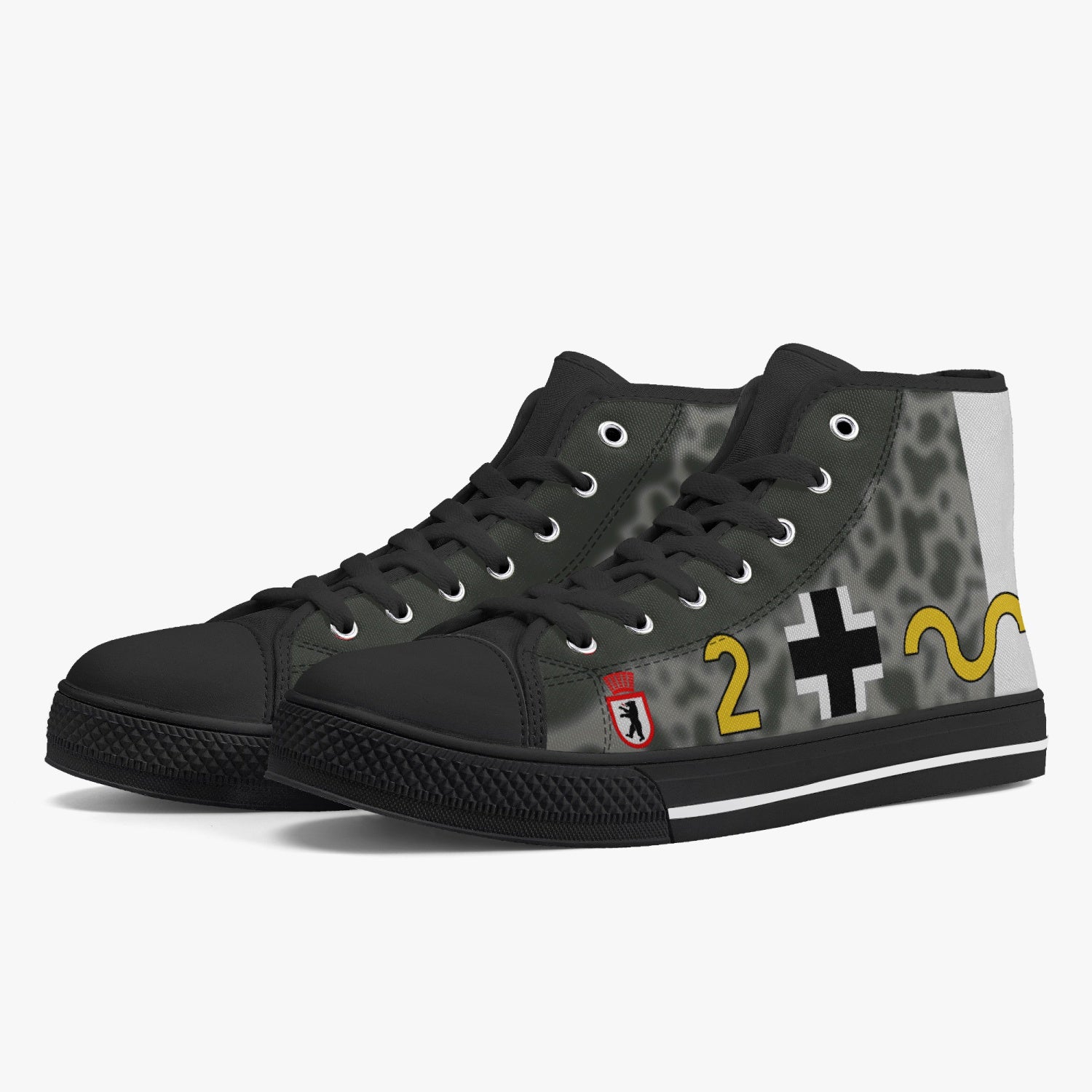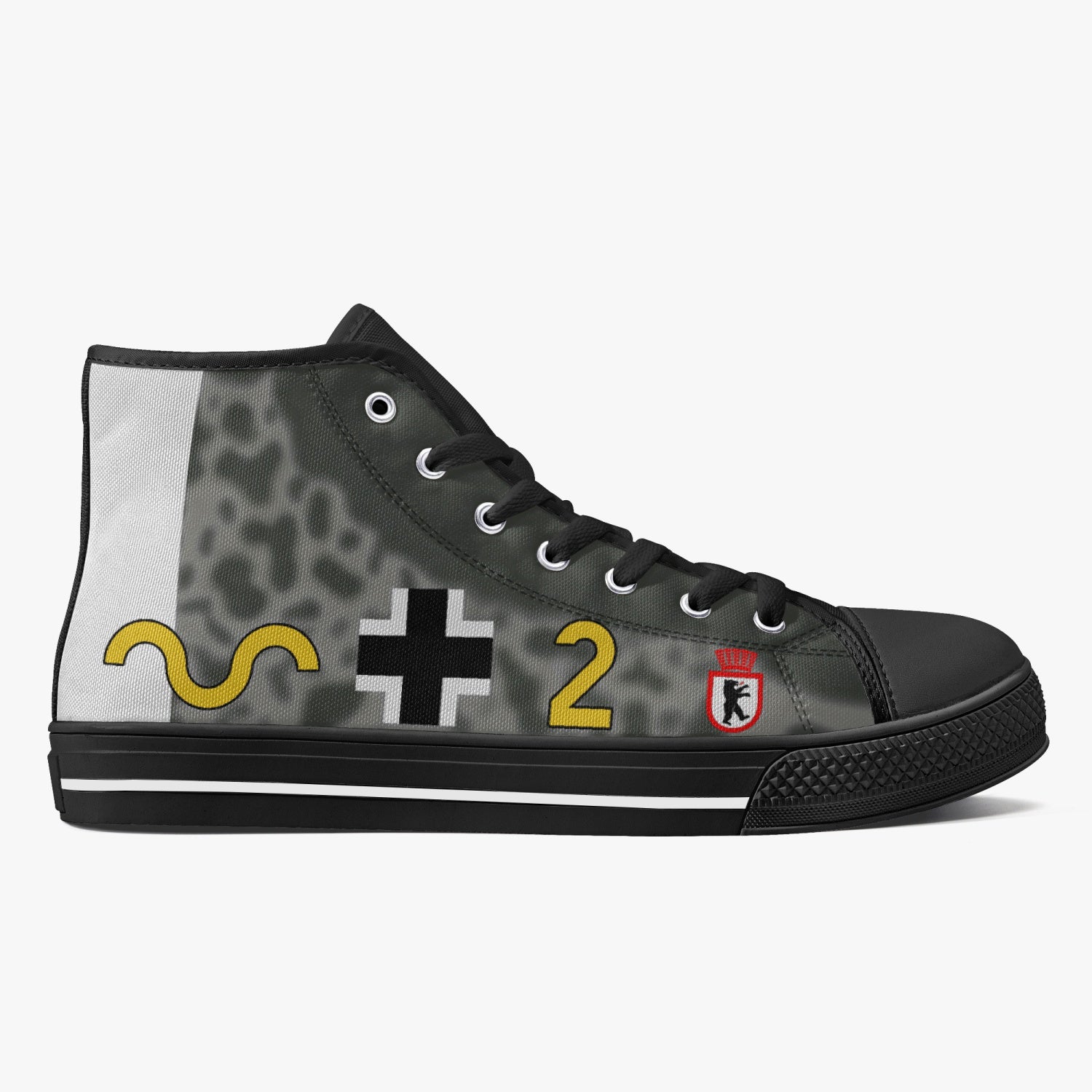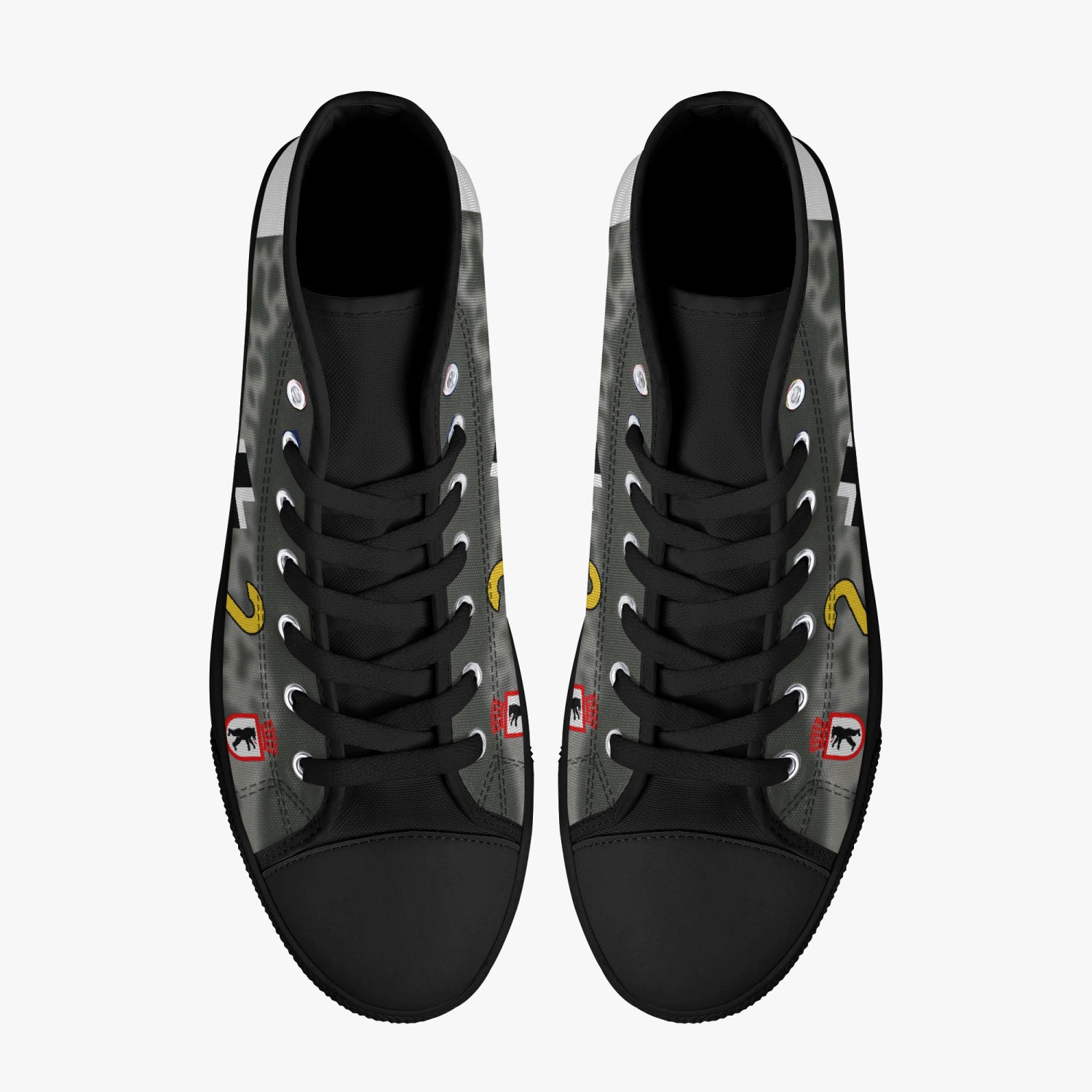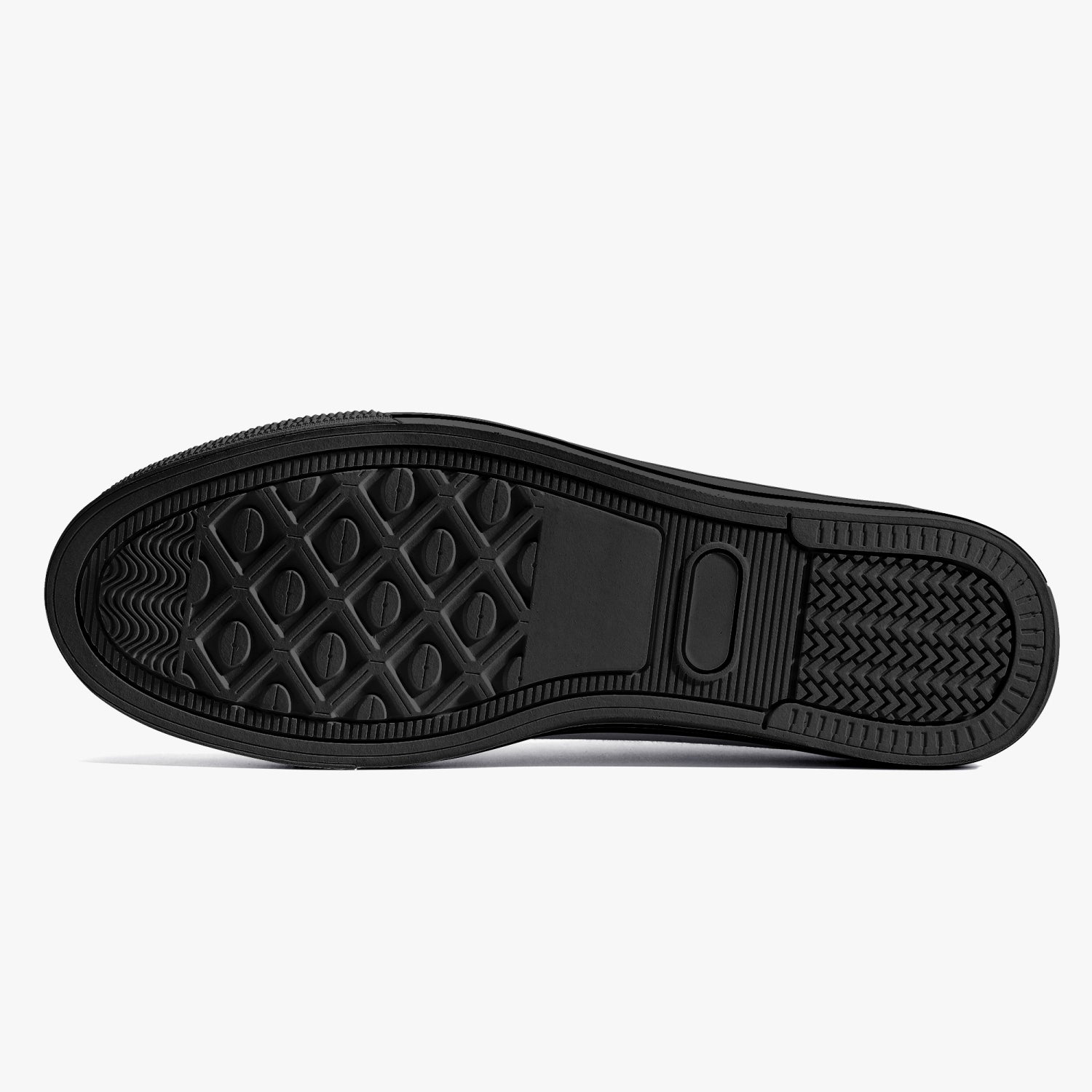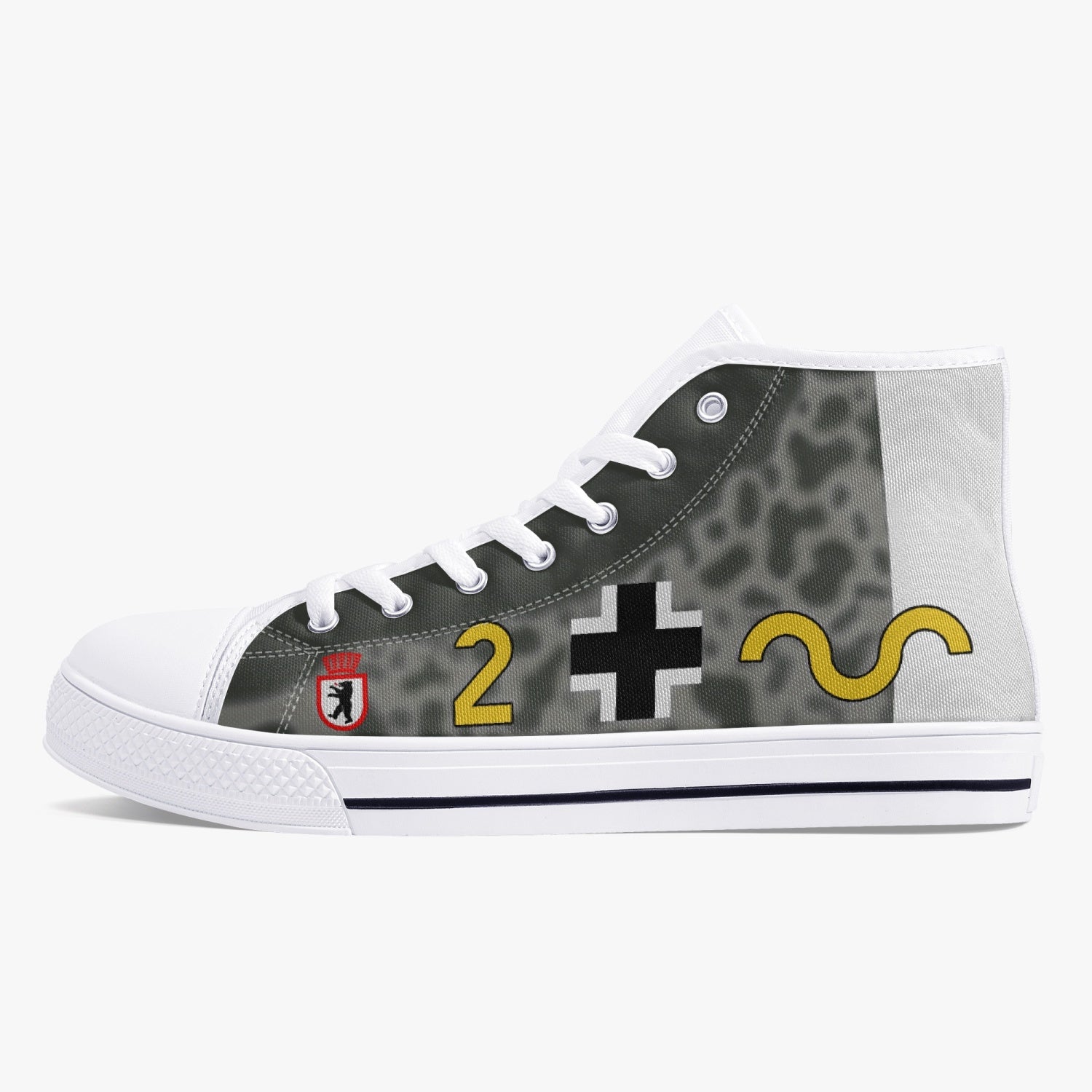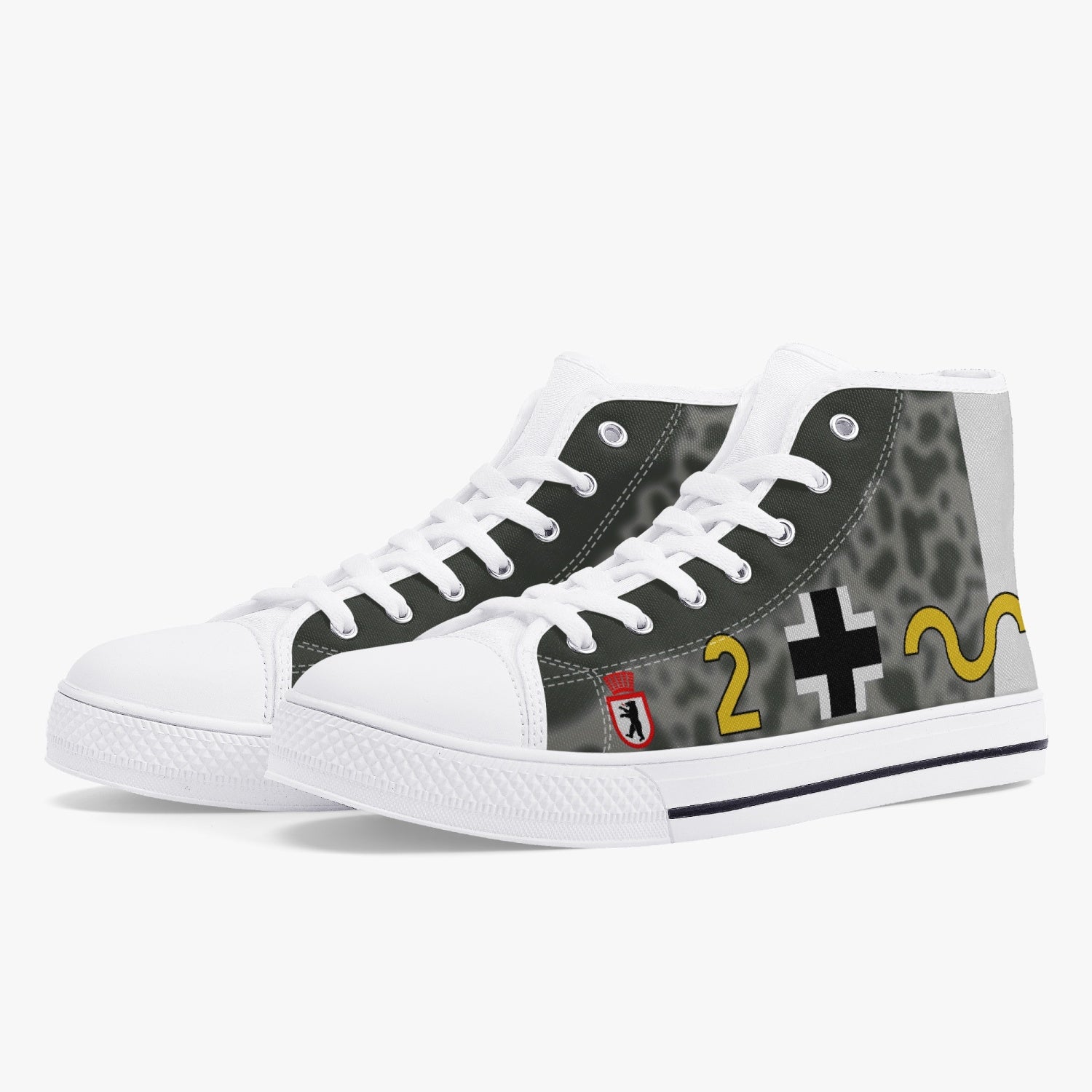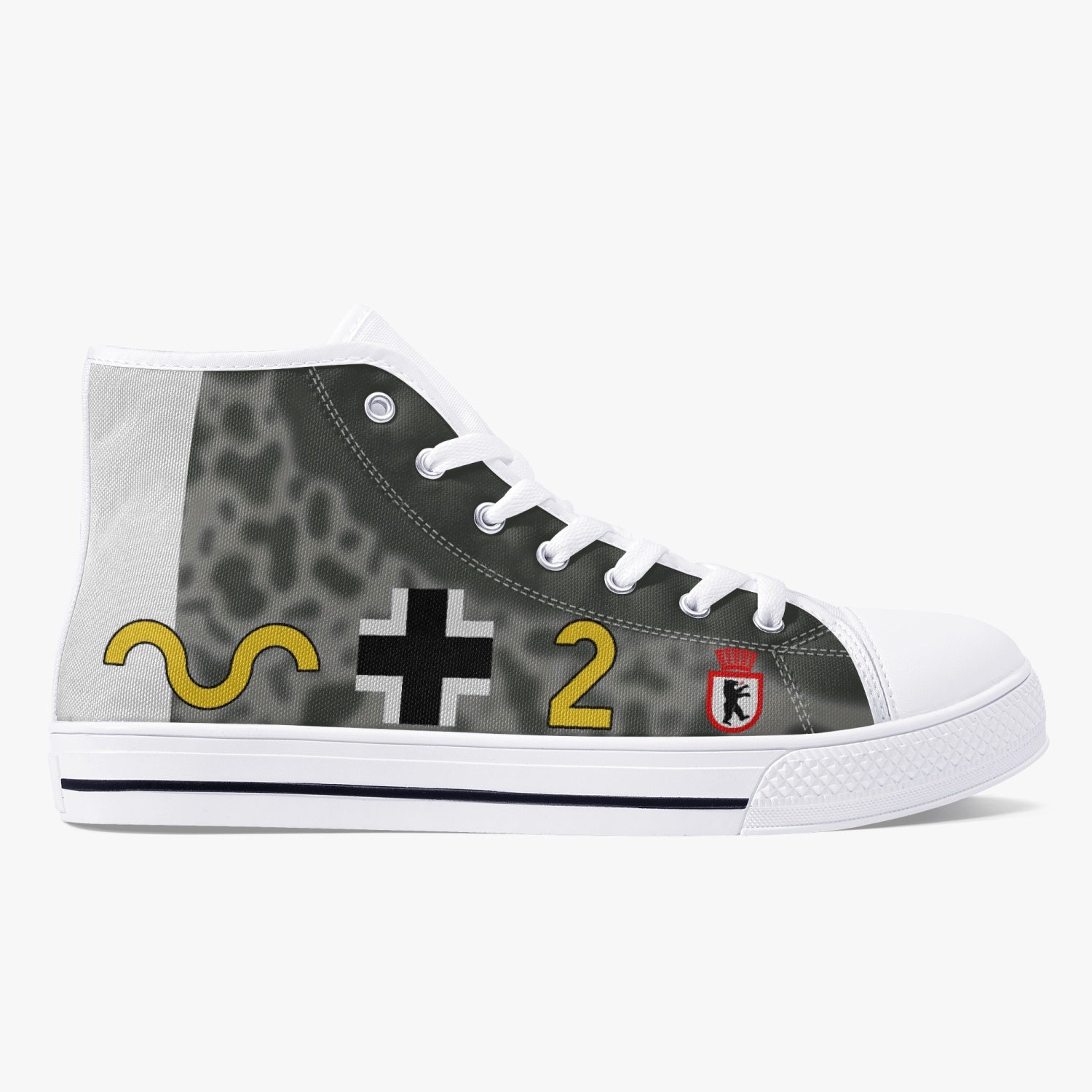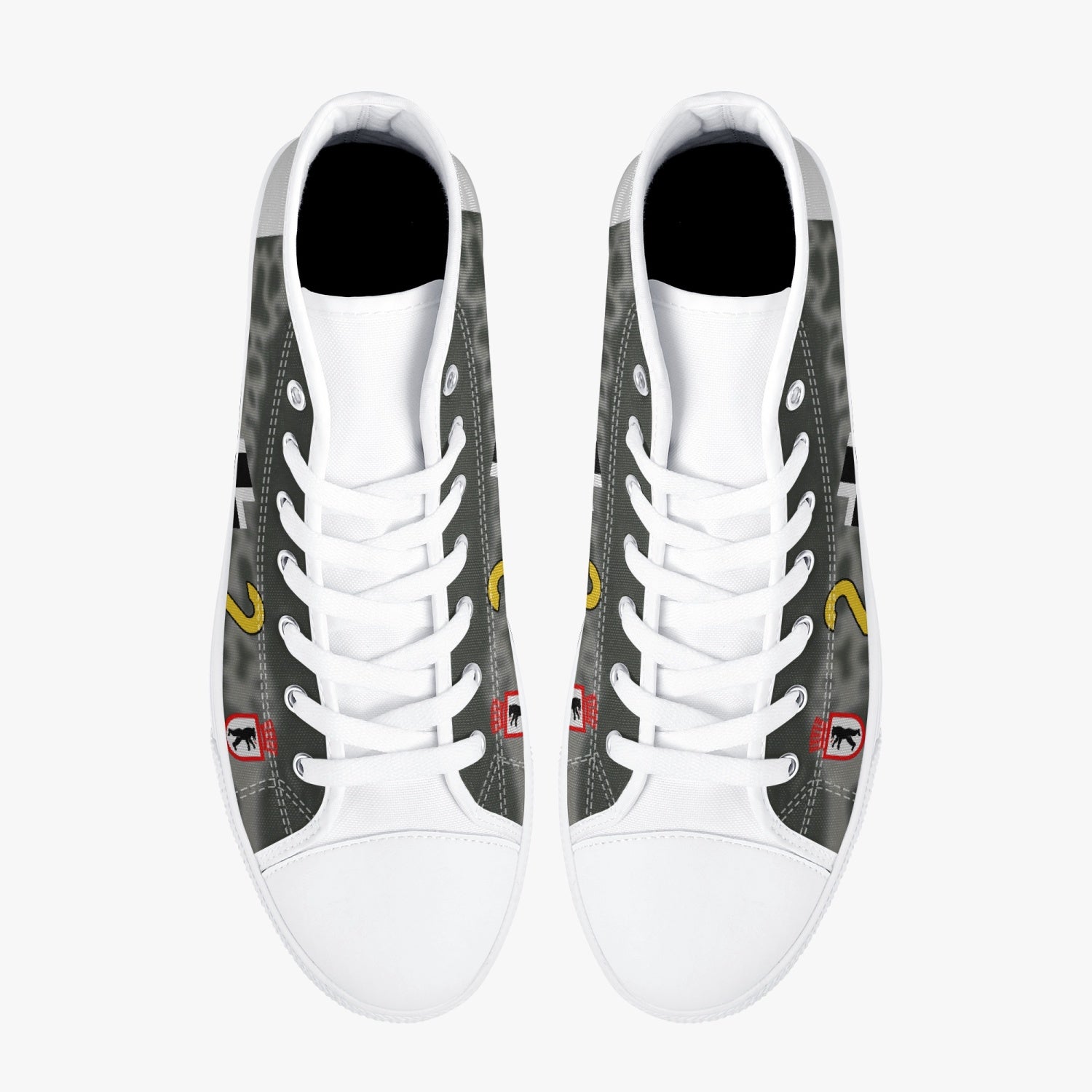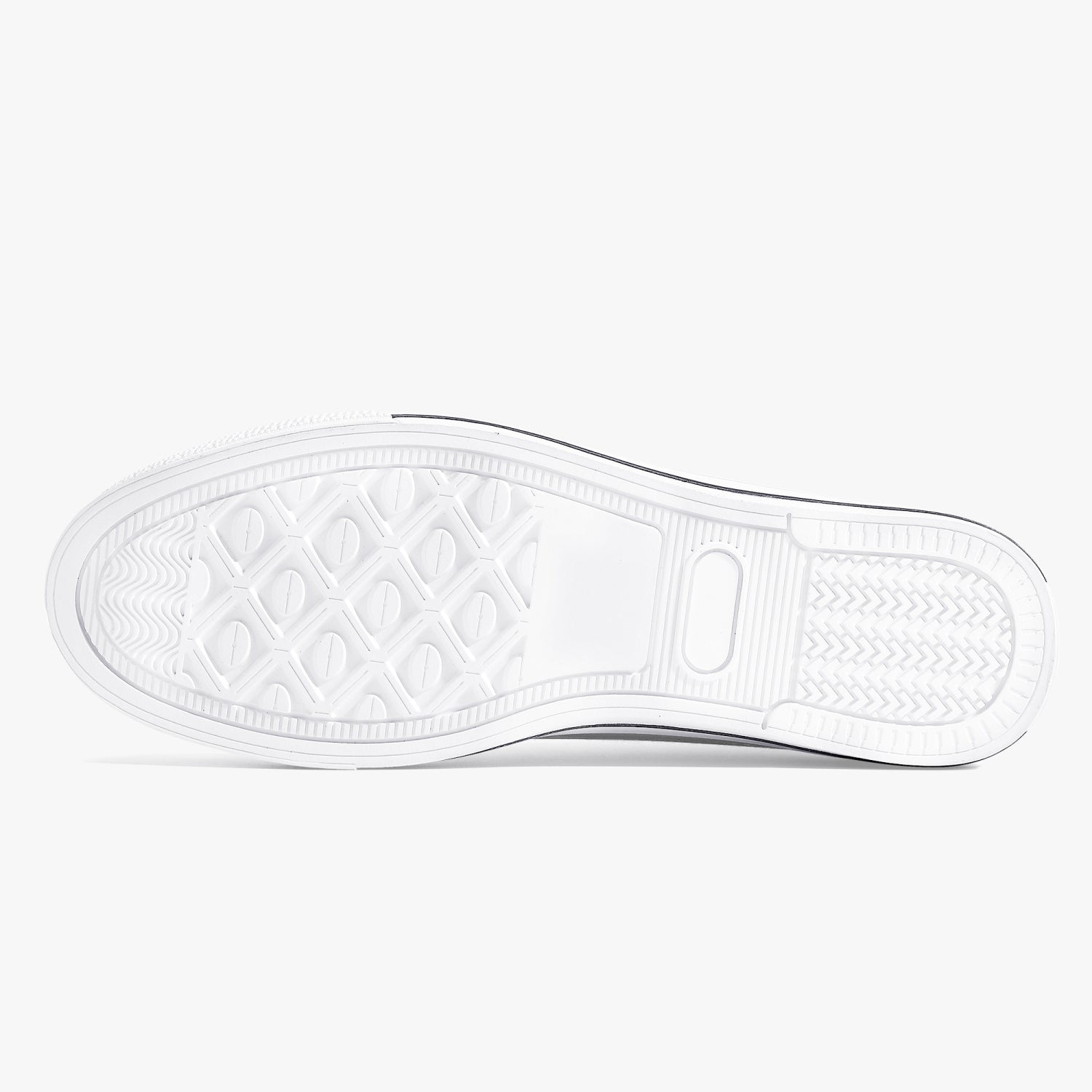 Bf-109 "Yellow 2" of Franz Stigler High Top Canvas Shoes
---
Did You Know?
Did you know that on 20 December 1943 a Luftwaffe Fighter pilot chose NOT to shoot down a crippled B-17 bomber?  This incident was subsequently known as the "The Charlie Brown and Franz Stigler incident"
The Charlie Brown and Franz Stigler incident occurred on 20 December 1943, when, after a successful bomb run on Bremen, 2nd Lt Charles "Charlie" Brown's B-17 Flying Fortress (named "Ye Olde Pub") was severely damaged by German fighters. Luftwaffe pilot Franz Stigler flying a Messerschmitt Bf-109 had the opportunity to shoot down the crippled bomber, however once close enough he could see through the damaged bomber's airframe injured and incapacitated crew. To the American pilot's surprise, Stigler did not open fire on the crippled bomber. Stigler recalled the words of one of his commanding officers from Jagdgeschwader 27, "If I ever see or hear of you shooting at a man in a parachute, I will shoot you myself." Stigler later commented, "To me, it was just like they were in a parachute. I saw them and I couldn't shoot them down."
Twice Stigler tried to get Brown to land his plane at a German airfield and surrender, or divert to nearby neutral Sweden, where he and his crew would receive medical treatment and be interned the remainder of the war. Brown and the crew of the B-17 didn't understand what Stigler was trying to mouth and gesture to them and so flew on. He then flew near Brown's plane in a formation on the bomber's port side wing, so German antiaircraft units would not target it; he then escorted the damaged B-17 over the coast until they reached open water. Brown, unsure of Stigler's intentions at the time, ordered his dorsal turret gunner to point at Stigler but not open fire in order to warn him off. Understanding the message and certain that the bomber was out of German airspace, Stigler departed with a salute.
Years later in 1986 the then-retired Lt. Col. Brown decided he should try to find the unknown German pilot. Over 4 years later after an extensive search by Brown, the two pilots finally met each other and developed a friendship that lasted until Stigler's death in March 2008. 
I Love A Hangar offers product designs based on historic militaria from World War 1 to present. I Love A Hangar is not affiliated with, and does not condone or embrace the past, present or future philosophies of any radical political, religious or racist organizations.
Step into history with our warbird themed canvas shoes! Each pair of shoes are made to order, featuring designs inspired by history's most remarkable military aircraft and aviators.  So, whether you are a warbird buff, air show fanatic or simply a lover of aviation, you can be certain our designs will bring a touch of style and history to your everyday wardrobe.

✈    Made to order.
✈    Classic lace-up closure to achieve the perfect fit.
✈    Brushed metal eyelets for that timeless style.
✈    Soft inner lining and insole for absolute comfort.
✈    Iconic rounded rubber toe cap.
This product is made to order with production beginning once your order has been received. We are therefore not able to cancel or amend an order once it has been placed. This includes changes to the shipping address, size, design, or any other specifications. Please review your order details carefully before finalizing your purchase.

Please allow 7-10 days from the date of order to receive your tracking details.

Please note there can be subtle variations in color and minor movement of the product during production that may cause a design element not to be the exact same color or in the exact position as it appears on screen. More details can be found on our FAQ page.

By producing items on demand rather than in large quantities, we actively contribute to minimizing overproduction and waste. We genuinely appreciate your mindful purchasing choices, which support this more sustainable approach. Thank you for your understanding and support!

Product is manufactured in and shipped from China.